Many thanks to Sandra Martin for the war memorial information.
The front of the lectern has been found in the museum stores in Ashton-under-Lyne - thanks to Rachel Cornes for letting Sandra Martin and myself have a look around and to take photographs
Below is a photograph of the sculptor and artist who made the memorial and a short biography written by his son.
NoŽl Andrew
19th November 1914 Ė 1st April 2001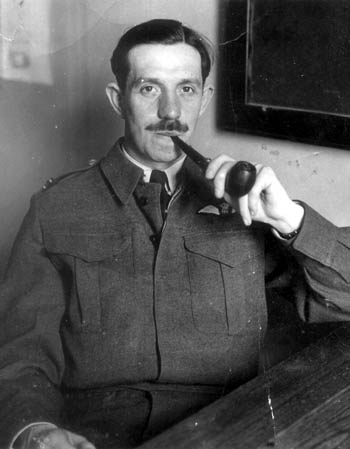 NoŽl Andrew was born at 123, Henrietta Street, Ashton-under-Lyne on 19th November 1914.
He was educated at Ashton Grammar School and Manchester School of Art where he achieved his ATD (Art Teacherís Diploma) prior to the outbreak of the 1939 - 45 war. On 2nd September 1937 he married Florence Irene Emslie of 57, Turner Lane, Ashton-under- Lyne at Christ Church, Ashton.
His first appointment was in Clacton upon Sea, Essex where he taught until the outbreak of war when he volunteered for service in the Royal Air Force.
His first son (David Francis) was born on 17th November 1940.
In 1943, as a Flight Lieutenant, he was posted to Penfold Air Station, near Red Deer, Alberta, Canada as a flying instructor seconded to the Royal Canadian Air Force. His second son (John Phillip) was born in Red Deer on 2nd April 1944.
In July 1944 he returned to England and was subsequently posted to India and Burma flying Mosquito aircraft on unarmed reconnaissance. He remained in this posting until the termination of hostilities, achieving the rank of Acting Squadron Leader.
After demobilisation from the Royal Air Force, he returned to Ashton to teach at the Heginbottom School of Art. It was during this period that he completed the memorial plaque to Francis Thompson, Poet which is located in the entrance hall of the Central Library. The plaque was unveiled by Councillor T Smith, Mayor of Ashton, on Saturday, 15th September, 1951 (Ashton-under-Lyne Reporter, 21st September 1951)
In conjunction with Mr Eric de Court, cabinet maker, he also created the war memorial for the then Ashton Grammar School, now Ashton Sixth Form College. In 1952 he left the School of Art to take up a post as Lecturer in Art at Stranmillis Training College in Belfast, N Ireland.
In 1965 he returned to England to take the position of Head of Art at West Midlands College of Education, Walsall, Staffordshire, where he remained until his retirement in 1976, having held the posts of Senior Tutor and, at his retirement, that of Deputy Principal. He retired to Wareham in Dorset where he remained until shortly before his death on 1st April 2001. His wife Irene died on 16th January 2003.
He leaves his two sons, six grandchildren and two great grandchildren.



Famous Old Boys
Gordon Taylor - Chief Executive of the PFA (Professional Footballer's Association)
Gordon Taylor - At Ashton Grammar 1956 -61, we were in the same class and mates from Mossley Road. He left immediately after O levels to sign pro forms for Bolton Wanderers who sent him to Bolton Tech to do his A levels. While playing for Bolton he also got a BA (Econ) from London University. In 1970 he moved from Bolton to Birmingham City. While playing for Birmingham in 1978 he became Chairman of The Professional Footballer's Association. On retiring from active football in 1981 he became, and still is, Chief Executive of the PFA. He is often on TV and in the News as his job is like that of any Trade Union Boss. His Mum still lives in Derby Road, which is at the side of the Grammar School. (introductory paragraph by Mike Firth)
Gordon Alexander Taylor OBE (born 28 December 1944) is an English former professional footballer who played as a winger. He became chief executive of the English footballers' trades union, the Professional Footballers Association. He is reputed to be the highest paid union official in the world.
Taylor was born in Ashton-under-Lyne, Lancashire. He, alongside Harry Clapstick and Chalkie White, founded Curzon Ashton Football Club in 1963. They raised money for their first kit by selling firewood door-to-door. He played over 250 games for Bolton Wanderers and scored more than 50 goals before being transferred to Birmingham City in 1970. He joined Blackburn Rovers in 1976 and spent the 1977 close season playing in the North American Soccer League for the Vancouver Whitecaps. He returned to play for Blackburn and finally Bury before retiring in 1980 to work full-time for the PFA.
He has a degree in economics and is a member of FIFA's football committee.
He was appointed Officer of the Order of the British Empire (OBE) in the 2008 New Year Honours.


Professor Sir John Pendry - Physicist
Sir John Pendry - At AULGS 1955- 62, Head Boy 1961-2. Mr. Sutcliffe's Golden Boy. He Now holds The Chair in Theoretical Solid State Physics at Imperial College London, is a Fellow of The Royal Society and is one of the leading lights in the World on Invisibility. Producing several papers on the subject. I'm not sure when he was Knighted, but it was for services to Physics. During his time at the Grammar school he often participated in debating competitions and was a brilliant speaker. He does have a website and an email address and will probably get back to you if you email him. He did reply to me when I congratulated him on his Knighthood.(introductory paragraph by Mike Firth).
Sir John Brian Pendry, FRS FInstP (born 4 July 1944) is an English theoretical physicist known for his research into refractive indexes and creation of the first practical "Invisibility Cloak". He was head of the department of physics (1998-2001) at Imperial College, London and principal of the faculty of physical sciences (2001-2002). He is an honorary fellow of Downing College, Cambridge (where he was an undergraduate) and an IEEE fellow.


John Savident (Fred Elliott) Coronation Street.
John Savident (born 1938) is a well-known British actor.
Savident was born in Guernsey in the Channel Islands and used to be a police officer. He made his television debut in 1968, and appeared in many dramatic roles, becoming a familiar face as a result of parts in films such as A Clockwork Orange, Waterloo, Mountains of the Moon and The Wicked Lady, as well as television series including Yes, Minister, Blake's 7, Private Schulz, Doctor Who: The Visitation and Middlemarch. His stage roles include being a member of the original London cast of The Phantom of the Opera.
However, it was only during the 1990s, when he joined the cast of Coronation Street as loud-mouthed butcher Fred Elliott, that he became a household name. In December 2005, Savident announced that he was to leave the series in 2006 citing (undisclosed) "personal reasons" for his decision.
Ronald Fraser
Ronald Fraser, known as Ronnie, (born 11 April 1930, Ashton-under-Lyne, Lancashire, England) was a British actor who was part of the 1950s and 1960s film scene in the UK.
Film Credits
The Long and the Short and the Tall
Too Late the Hero
Trail of the Pink Panther
Come Play With Me
The Wild Geese
Let Him Have It.
Television Credits
Pygmalion
The Sweeney
The Famous Five
Pennies From Heaven
Danger Man
Minder
Life Without George
Lovejoy
Brideshead Revisited
Doctor Who (The Happiness Patrol)
The Young Indiana Jones Chronicles.
The Chris Evans show "TFI Friday"
A heavy drinker, he died of a haemorrhage, aged 66 on 13 March 1997. The pallbearers at his funeral were Sean Connery, Peter O'Toole, Simon Ward (star of Young Winston) and Chris Evans.


created by Gay J Oliver 2006: © Copywrite:all rights reserved